China Joins Third-Generation Partnership Project 2
Seoul, Korea, May 25, 1999
China Wireless Telecommunication Standard (CWTS) group formally joined four globally recognized Standards Development Organizations (SDOs): ARIB (Japan), TIA (USA), TTA (Korea), and TTC (Japan) in the Third-Generation Partnership Project 2 (3GPP2). These SDOs have agreed to cooperate in the preparation of globally applicable technical specifications for 3rd Generation Mobile Systems based on the evolved ANSI-41 core network and the relevant radio access technologies to be converted by the standardization bodies into standards. The partners refer to these activities as "3GPP2" which was launched earlier this year.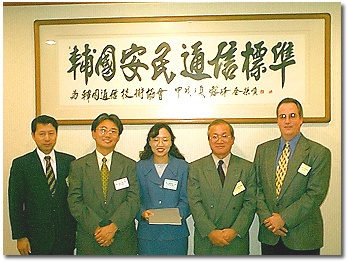 The intent of the work of 3GPP2 is to bring together participants in national and regional standards developers to create specifications for third generation wireless and to accelerate contributions made to International Telecommunication Union (ITU)'s International Mobile Telecommunications-2000 (IMT-2000) initiative. The IMT-2000 initiative is planned to offer new user benefits such as advanced multi-media services, data rates up to 2 Mbps, next-generation mobile Internet and advanced packet services, global roaming, and more. Such advanced communications systems are intended to provide anytime, anywhere services where such technologies are deployed. This will be a major advancement to systems currently deployed which are referred to as second generation or "2G" systems.
CWTS, newly formed in April, has the responsibility to define, produce and maintain wireless telecommunication standards in China and was established under the Chinese Standardization Law, with the approval of Ministry of Information Industry (MII) of China. Madame Shumin Cao, the chair of CWTS stated: " Wireless standards are very important to China and CWTS intends to be a major participant in the development of the specifications and standards for third-generation systems. We are pleased to become an Organizational Partner in 3GPP2."
3GPP2 membership consists of four categories:
Organizational Partners which represent major SDOs of the world;
Market Representation Partners which represent cellular operator forums that bring critical market requirements into the development of wireless standards;
Individual Members which represent individual corporate members and include both cellular operators and manufacturers; and
Observers, participating members who are qualified to become future members in any of the three categories listed above.
China became the first observer whose status within 3GPP2 has changed from observer to an Organizational Partner.
Steve Dennett, Director, cdma2000 Standards, Personal Communications Sector, for Motorola, and chair of the 3GPP2 Steering Committee remarked: "The partners are extremely glad that CWTS has joined 3GPP2 to work cooperatively to develop the specifications for a Third-Generation Mobile System based on the evolved ANSI-41 core network and the relevant IMT-2000 radio access technologies."
3GPP2
3GPP2 was launched in January 1999 in Vancouver, British Columbia, and focuses on the evolved ANSI-41 core network and related radio transmission technologies. This partnership project has a Partners Group, a Steering Committee, and six Technical Specification Groups (TSGs) where individual company members develop the specifications.
ARIB - Association of Radio Industries and Businesses, Japan
CWTS - China Wireless Telecommunication Standard group, China
TTA - Telecommunications Technology Association, Korea
TTC - the Telecommunication Technology Committee, Japan
TIA - Telecommunications Industry Association, USA
ANSI - American National Standards Institute, USA
ANSI-41 - American National Standard ANSI/TIA/EIA-41